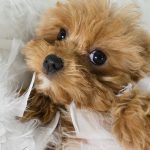 Bichon-Poo
The Bichon-Poo combines the more robust, oblong body of the Bichon with the intelligence of the Poodle making a wonderful and happy companion. Depending on the color of the poodle parent the variance can be wide. Most often white in color. They are Active, intelligent, loyal, and affectionate. Typically, this is an ideal dog for children. Their size and playful nature make them a family favorite. They get along well with other dogs, cats and small animals. Regular brushing is important. Exercise need is moderate. The Bichon-Poo is quite easy to train but he will enjoy time spent in obedience classes with his family. They have great problem solving ability. Indoor and outdoor activity is moderate. They will adapt to living in just about any environment. With their size they make excellent dogs for apartments. Generally very healthy, the vigor instilled through this cross makes them less prone to the ailments that afflict the parent breeds. Their Life Span is 12 – 16 Years
The Bichon-Poo is Hypoallergenic and non-shedding
The puppies below are currently for sale at Allie's Pet Corner, click on the image for more information.
Contact Info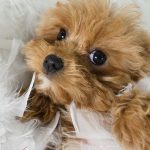 Allie's Pet Corner
750 Miracle Mile Drive
Rochester, NY 14623