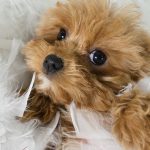 Malti-Pom
The Maltipom is not a purebred dog. It is a cross between the Pomeranian and the Maltese.They are one of the most popular Maltese mixes because of their affectionate personality and beautiful coloring
These dogs take on the temperament of both Pomeraniansand Maltese. They are amusing, clever little dogs.
They are also highly intelligent and easy to train. You should socialize and train your dog to combat barking and boredom. They are sometimes reserved with strangers and can serve as a good watchdog.
This dog does best with older more considerate children as they can be timid. Most people find them to have a people pleasing and carefree personality.
The puppies below are currently for sale at Allie's Pet Corner, click on the image for more information.
Contact Info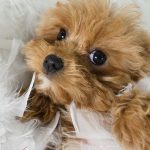 Allie's Pet Corner
750 Miracle Mile Drive
Rochester, NY 14623