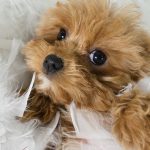 Midwest Crate Products
At Allie's Pet Corner we recommend only Midwest Crate Products.
Mid-West has been manufacturing wire dog training crates since 1921. Midwest puts an emphasis on having quality crates, which is why Allie's Pet Corner carries their line in our store. Crate your new family member in a safe and secure space with Midwest Crate Products. Midwest designs each crate to cater to the safety and comfort of your new puppy. Midwest designs their crateswith rounded corners to ensure your puppies safety and comfort, giving your puppy more freedom to move around and your puppy is not able to injure themselves. The cratesare also designed, so you can see how your puppy is adjusting, and your puppy can see everything that is going on around them as well! Midwest Crate Products makes a variety of different crates, catered to individual dog needs. Stop on by Allie's Pet Corner to pick out your new family member and choose one of the crates we carry from Midwest Crate Products, the best crates on the market!
Contact Info
Allie's Pet Corner
750 Miracle Mile Drive
Rochester, NY 14623