Morkie
The Morkie is a very popular hybrid dog breed created by the Yorkshire Terrier – Yorkie and Maltese mix. They are very well known and also referred to as "designer dogs". Because the Morkie is a hybrid breed, the puppy has less of a chance of suffering from a lot of the hereditary diseases from which purebred dogs can suffer. When these two purebred dogs breed, this creates a healthy hybrid breed. This hybrid, or mixed breed, is an all around loving pet.
The Morkie is very affectionate and loyal. This mixed breed will fare quite well with other house pets and other dog breeds. The Morkie loves attention and will become very bored if left alone for a long period of time. This mix breed is known to bond closely with their family members, and will be very wary of strangers. They oftentimes will make very good watchdogs.
The puppies below are currently for sale at Allie's Pet Corner, click on the image for more information.
[huge_it_gallery id="24″]
[huge_it_gallery id="25″]
Contact Info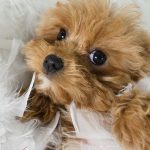 Allie's Pet Corner
750 Miracle Mile Drive
Rochester, NY 14623