Papi-Chon
Papi-Chon, is a common name referred to a dog that is a mix between a Bichon Frise and Papillon. A mix between two or more purebred dogs is known as a hybrid.
A Papi-Chon a small dog that generally weighs 8 to 15 lbs. This mixed breed generally has a medium to long coat that comes in a wide variety of colors.
The personality of a Pap-Chon depends on if it takes on characteristics of the Papillon breed or the Bichon breed.
Contact Info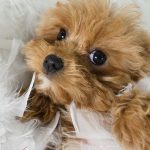 Allie's Pet Corner
750 Miracle Mile Drive
Rochester, NY 14623