Pomeranian
The Pomeranian is a proud, lively little dog. Intelligent, eager to learn, very loyal to its handler and family. The Pom is a wonderful companion and showdog. The breed's docile temper and affectionate nature endear it to many. They are alert, inquisitive and active: one of the most independent of the Toy breeds, they need a firm, gentle hand. Its liveliness and spirit make it well-liked by persons who do not usually care for toy dogs. They may be picky eaters. If it is properly introduced they usually get along with other dogs and household animals without any problems. Poms make good little watch dogs. Teach this dog early that it may bark a couple of times when the doorbell rings or when there are visitors, but then to keep quiet. Be very consistent about this. Poms have a delightful nature and do not cling to their handlers.
The Pomeranian is good for apartment living. They are very active indoors and will do okay without a yard. Be careful they do not overheat in hot weather.
The Pomeranian got it's name from the region of Pomerania, which is now the area of Germany and Poland, where it was developed from the ancient Spitz breeds. The original Pomeranians were much larger, weighing up to 30 pounds and worked as sheep herders. Marie Antoinette, Emile Zola, Mozart and Queen Victoria all owned Pomeranians. In 1870 the Kennel Club in England first recognized them as a breed. In 1888 Queen Victoria began breeding and showing the dogs. It was she who started breeding them down in size, making the breed very popular in England. The Pomeranian was first recognized by the AKC in 1888. Some of the Pom's talents include: watchdog, agility and performing tricks. Poms make superior circus performers
The puppies below are currently for sale at Allie's Pet Corner, click on the image for more information.
[huge_it_gallery id="59″]
Contact Info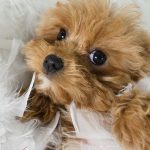 Allie's Pet Corner
750 Miracle Mile Drive
Rochester, NY 14623