Sheltie
The Shetland Sheepdog is loyal, willing and eager to please, making a wonderful companion dog. Docile and alert with a pleasant temperament. Loving, loyal and affectionate with its family, this breed needs people. Socialize it well starting at puppyhood. It is a good guard and watchdog. Sensitive to the tone of your voice, these dogs will not listen if they sense you do not mean what you say, and will also not listen if you are too harsh. They need their owners to be calm, but firm. They must be raised in a home where the humans are confident, consistent, pack leaders. Very intelligent, lively and trainable, the Shetland Sheepdog is one of the smartest breeds. With intelligence comes the need to occupy their minds. They like to be kept busy. The Sheltie is above all an intelligent herder, capable both of commanding large cattle and holding small sheep in check. The herding instinct is still very strong in many of them. Because of its beauty and kindness, the Sheltie has become a popular companion dog.
The Sheltie will do okay in an apartment if sufficiently exercised. They are fairly active indoors and will do okay without a yard.
The coat is easier to care for than you might expect, but regular brushing is important. Mist the coat lightly with water before you begin and tease out the mats before they get bad, but use the comb sparingly. This breed is a seasonally heavy shedder. The dense undercoat is shed twice a year: in the spring and fall. The coat readily sheds dirt and mud and Shelties are quite fastidious about their cleanliness. The Shetland Sheepdog is related to the Rough Collie, both dogs descended from Border Collies that inhabited Scotland. The Border Collies were brought to the Scottish island of Shetland and crossed with the Icelandic Yakkin, a small island dog which is now extinct. By 1700, the Sheltie was completely developed. The dogs were used to herd and guard the sheep flocks of the Shetlands. This willing worker was very gentle when herding the miniature stock. The Shetland Sheepdog was first recognized in England in 1909 and by the AKC in 1911. The Sheltie is one of today's most popular companion dogs. Extremely smart, it excels at obedience competition. Some of the Sheltie's talents include: tracking, herding, watchdog, guarding, agility, competitive obedience and performing tricks.
Contact Info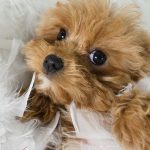 Allie's Pet Corner
750 Miracle Mile Drive
Rochester, NY 14623