Shiba Inu
The Shiba is alert, confident, courageous, and bold. Loving, kind, trainable and brave. They are clean and most try to avoid puddles and are relatively easy to housebreak. They bark little and bond closely with their handler. Playful and delightful, a well-adjusted Shiba is good with kids, other dogs and cats.  Active, lively, agile and fast. Socialize this breed well as a puppy, as they can be reserved with strangers. Adapts well to traveling. Make sure you are this dog's firm, confident, consistent leader, providing daily pack walks to avoid behavior issues.
The Shiba will do okay in an apartment if is sufficiently exercised. It is moderately active indoors and will do best with at least an average-sized yard. The Shiba's waterproof, all-weather coat protects it in both cold and hot conditions, so it can live outdoors if you have a secure yard of reasonable size. However, it does regard itself as part of the family and does not like to be left alone outside. This breed would be much happier living indoors with its family.
The Shiba is the smallest of the Japanese native breeds, which include the Kai Inu, Hokkaido Inu, Kishu Inu, Shikoku Inu, Tosa Inu, and the Akita Inu. Despite it's smaller size it was bred to hunt small wild game, bear, boar and to flush birds. The name Shiba means, both "small" and "brushwood" in Japanese. It may have been named after the terrain the dogs hunted in or the color of the Shiba's coat, or perhaps the dog's size. The word "Inu" means "dog". Like many breeds the second world war nearly did the breed in. After the war was over several breeding programs worked to bring the breed back to safe numbers. The Shiba is one of the post popular breeds in Japan today and is gaining number sine USA. The Shiba Inu was recognized by the AKC in 1992. Some of the Shiba's talents include: hunting, tracking, watchdog, guarding, agility and performing tricks.
The puppies below are currently for sale at Allie's Pet Corner, click on the image for more information.
[huge_it_gallery id="57″]
Contact Info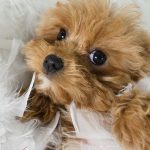 Allie's Pet Corner
750 Miracle Mile Drive
Rochester, NY 14623