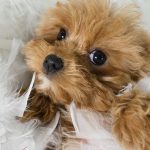 Toy Poodle
The Toy Poodle is remarkably intelligent. Highly responsive, they are said to be one of the most trainable breeds. Sweet, cheerful, perky and lively, they like to be with people. Delightful and very amusing when well socialized. They make a very good watchdog for their size. Toy Poodles are generally good with other pets and dogs. This breed will tend to bark a lot unless trained not to. This little dog can be good with children, however is usually recommended for older children, who know how to display leadership skills.
The sizes of the official AKC recognized Poodle breeds are determined by height, not by the weight. The Toy Poodle is 10 inches or under at the highest point of the shoulders. Any Poodle which is more than 10 inches at the highest point of the shoulders cannot compete in the AKC show ring as a Toy Poodle
Toy Poodles are good for city life as well as country living. Given enough exercise, they are not active in doors. They will lay right next to you and are more sedate when indoor although they love to play outdoors and are a highly intelligent breed, so they do like lots of thoughtful activities to stimulate their mentality. They will do okay without a yard.
The Poodle has been known throughout Western Europe for at least 400 years and are depicted in 15th century paintings and in bas-reliefs from the 1st century. The subject is controversial of where the dog was officially developed and no one really knows the breeds true country of origin. France has taken a claim on the origin, but the AKC gives the honor to the Germans where they say it was used as a water retrieval dog.
The puppies below are currently for sale at Allie's Pet Corner, click on the image for more information.
Contact Info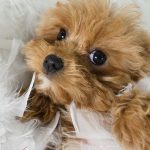 Allie's Pet Corner
750 Miracle Mile Drive
Rochester, NY 14623