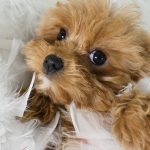 Boxer
The Boxer's body is compact and powerful. The head is in proportion with the body. The muzzle is short and blunt with a distinct stop. The nose is large and black with very open nostrils. The jaw has an under bite. The eyes are dark brown. The ears are set high, either cropped or kept natural. When cropped they are trained to stand up on the head, tapering to a point. When left natural the ears are thin, falling forward, laying close to the head. The neck should be round, strong, and muscular, a without dewlap. The muscular, front legs are straight and parallel when viewed from the front. The back legs are well muscled. The tail is set high and usually docked.
The Boxer is happy, high-spirited, playful, curious and energetic. Highly intelligent, eager and quick to learn. The Boxer is a good dog for competitive obedience. Constantly on the move, bonding very closely with the family. Loyal and affectionate, Boxers are known for the way they get along so well with children. A well brought-up and properly socialized Boxer will also get along with his own kind and other household pets such as cats. It has been said that the name Boxer came from the way the Boxer likes to use is front paws for just about everything. If you have ever watched a Boxer go about his business you may have noticed the way he paws at his toys, food bowl and you for that matter, in a very playful cat-like way. They are very clownish and playful. The Boxer's nature is to protect you, your family, and your home. Known visitors will be welcomed. They are always keen to work and play. Boxers need lots of human leadership. Teach the Boxer not to be boisterous and especially not to jump up at people. This breed is noted for courage and make great guard dogs. An excellent watchdog, the Boxer will restrain an intruder in the same way a Bulldog does. They are extremely athletic, sometimes even in their old age. More information on the boxer can be found by clicking here AKC Boxer
The puppies below are currently for sale at Allie's Pet Corner, click on the image for more information.
Contact Info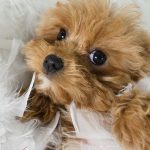 Allie's Pet Corner
750 Miracle Mile Drive
Rochester, NY 14623