Golden Retriever
The Golden Retriever
These are lovable, well-mannered, intelligent dogs with a great charm. They are easily trained, and always patient and gentle with children. Charming, devoted and self-assured, they are a popular family dog. Energetic and loving, Golden Retrievers enjoy pleasing their masters, so obedience training can be very rewarding. They excel in competitions. Friendly with everyone, including other dogs, the Golden Retriever has very little, if any, guarding instincts. While unlikely to attack, Goldens make good watchdogs, loudly signaling a stranger's approach. This breed needs to be around people who display leadership to be happy. Some of the Golden's talents are hunting, tracking, retrieving, narcotics detection, agility, competitive obedience, and performing tricks. These dogs also love to swim. This breed will do okay in an apartment if sufficiently exercised. They are moderately active indoors and will do best with at least a medium to large yard. The Golden Retriever needs to be taken on a daily, brisk, long walk, jog or run alongside you when you bicycle. In addition, they like to retrieve balls and other toys. Be sure to exercise this dog well to avoid hyper activity.
Originating in the Scottish Highlands in the late 1800s, the Golden Retriever was developed by Lord Tweedmouth, by crossing the original yellow Flat-Coated Retriever, with the now extinct Tweed Water Spaniel. He later crossed in the bloodhound, Irish Setter, and more Tweed Water Spaniel. The dogs were called the Golden Flat-Coat and only later were they given the name Golden Retriever. The Golden Retriever is one of the most popular breeds known today, not only as family companions but for obedience competitions, hunting and tracking, as a bird dog on both land and in the water, narcotics detection, service dog for the disabled, a guide for the blind and as a therapy dog. The Golden Retriever was first recognized by the AKC in 1925.
The puppies below are currently for sale at Allie's Pet Corner, click on the image for more information.
[huge_it_gallery id="53″]
Contact Info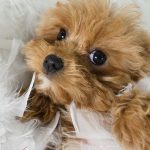 Allie's Pet Corner
750 Miracle Mile Drive
Rochester, NY 14623