Yorkie-Chon
The Bichon Yorkie Mix is sometimes called a Yochon or Borkie.  This mix combines the Yorkshire Terrier and the Bichon Frise.
The Bichon Frise is a lap dog that is larger than a Maltese.  It is a non-shedding dog that needs daily grooming.  Adults weigh about 10 to 18 pounds and reach 12 inches tall.  They have a cheerful temperament and live to be 12 to 13 years old. The Bichon Frise has white curly hair and is considered to be hypoallergenic.
The Yorkshire Terrier comes from England and is black and Tan.  It is a small dog weighing only 7 pounds.  It has straight hair and is also considered to be hypoallergenic.
Combining these two dogs together you get the Bichon Yorkie Mix. It is a non-shedding hypoallergenic coat, that can be a mixture between black, tan, and white. Bichon Yorkie Mixes make great lap dogs and need minimal exercise.   They have a great temperament and get along well with children.
The puppies below are currently for sale at Allie's Pet Corner, click on the image for more information.
[huge_it_gallery id="56″]
Contact Info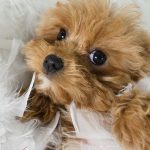 Allie's Pet Corner
750 Miracle Mile Drive
Rochester, NY 14623